Check our booklet on line and equip your screens with the easiest to use solution of the market
Digital Signage in a company is the best way to inform the employees, greet your guests and transmit a dynamic brand image.
It is also a good way to bring your employees together around company values and relay the objectives to your teams.
Inform your employees
Broadcast your performance metrics, objectives, news letters and improve the company's productivity
Welcome your guests
Help your visitors while they wait and reduce their feeling of expectation by .
Modernise your brand
Connect your internal tools and broadcast your news updated in real time effortlessly.
Why you should equip your company
Save time
The use of reusable multimedia content and the integration on internal data (calendars, objectives, works commitee info) allow to broadcast content updated in real time and automatically, with no human intervention.
Make the most of your company
Broadcasting videos to your image within your company is an excellent way to promote your know how and to show your expertise.
Upgrade your reactivity
Creating, modifying and broadcasting messages in a few instant on all of your screens allows you to react quickly to a recent event, communicate in the present, and assert the modernity of the company.
Express your ideas
A collaborative company TV is the best way to allow your coworkers to express themselves efficiently and contributes to strengthen the human aspect of the company.
Communicate as a team
Powerful administration tools combined with different levels of users enable you to empower a collaborative communication with national and local contents.
Step up your communication
Our intuitive content customization tools enable you to simply communicate while staying true to your identity and enhancing the impact of your advertising
Our latest work
Outdoor tourism
Deployment of screens aimed at retaining campers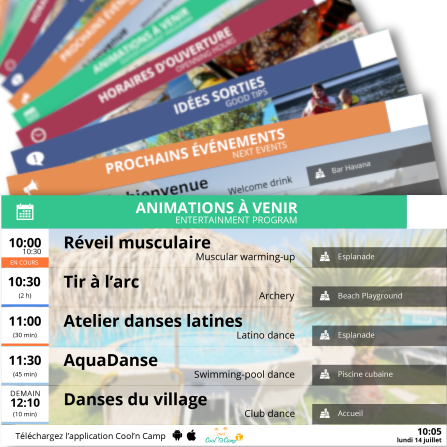 April 2015
Development of a solution on multiple supports for retaining clients, aimed at outdoor tourism and connected to the mobile app developed by Cool'n Camp
Our contribution
The managers of the campsites can use a powerful customer loyalty tool. The content from the application are relayed on the screens on the campsite equiped with the CityMeo solution.
Challenges
Cross-sites communication
Cooperative management of content and screens
WiFi connectivity and captive portals
Compliance with the application's graphical layout
Tourist offices
Equipment of multiple tourist offices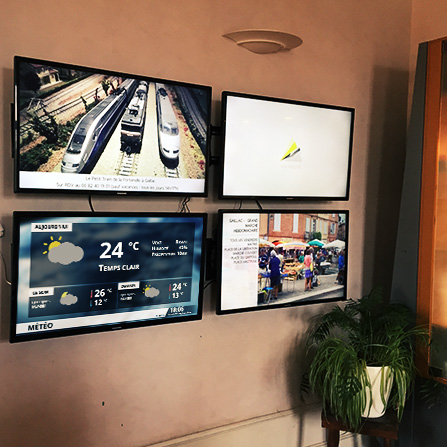 August 2014
Equipment of multiple tourist offices in the department of Tarn et Garonne. The screens are used for welcoming and informing visitors.
Specific services
Creation of video templates customisable specific to the use of tourist offices
Display the content on the touchscreen terminals available in the offices.
Our contribution
The communication team of the tourist offices in the Tarn et Garonne have at their disposal a simple and efficient tool allowing them to manage collaboratively the displays in all of their offices.
Challenges
Different screen orientations
Cross-sites communication
Cooperative management of content and screens
WiFi connection
Company offices
Deployment of information screens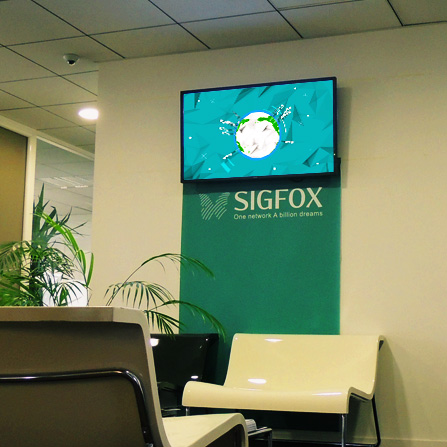 January 2015
Equipment of offices of the company SigFox with screens used to inform employees and welcoming guests.
Our contribution
This french startup at the forefront of technology faces an exceptionnal growth and is confronted with complex human ressources issues on all of their global offices. Thanks to the CityMeo solution, the company has a communication tool allowing it to manage instantaneously it's messages all over the world.
Challenges
Cross-sites and international communication
Cooperative management of content and screens
Tell us your project and let's make it a reality together.
Our team of technical experts can answer all your questions.